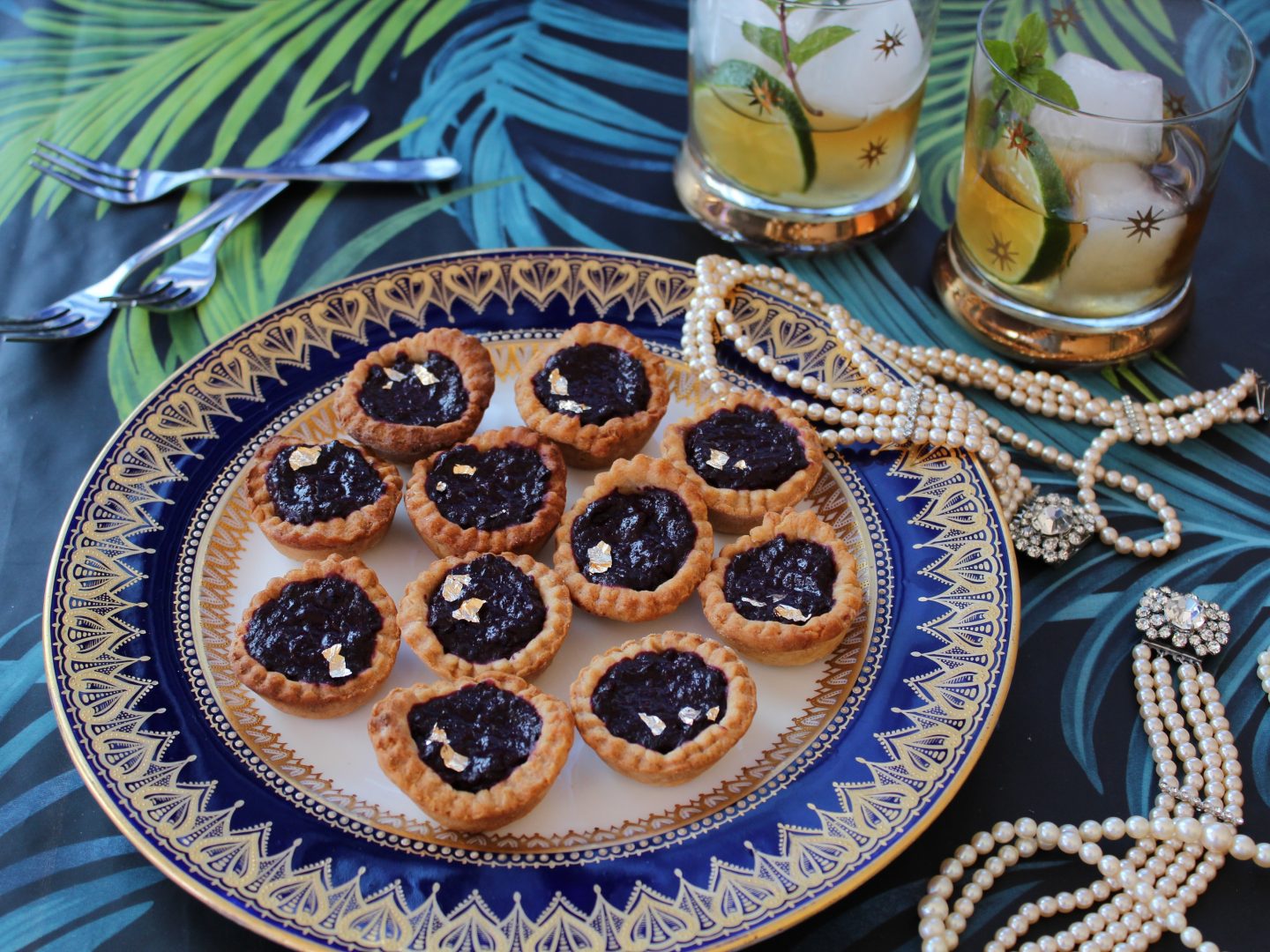 Week 5's bake off theme is roaring 20's. I've been loving how outside the box the show has been with the episodes this year. Bake off gives me so much inspiration and new ideas to get in the kitchen and test out. If your stuck in a rut, imagining what you would create for each challenge is super stimulating! I'm pleased that Henry is still baking strong and I'm also delighted Steph has received star baker two weeks in a row for dairy & 1920s week. She's very humble and modest about her talent so, hopefully her confidence has been boosted. She's definitely stolen a piece of my heart so I hope herself & Henry make it all the way to the final, with Dan & Alice on their tails!
Continuing with my GBBO bake-a-long, I couldn't decide whether to give the signature tarts a go or, the showstoppers cocktail cake so, I've merged the two. This tart is based on a classic 1920s cocktail; the Mint Julep. It's a simple concoction of Bourbon/ whisky, bruised mint and sugar syrup served over ice.
A silky, whisky custard sits within a crisp pastry shell, the tickling warmth is mellow enough not to overpower the mint infused jam layer above. I made homemade blackberry jam as they're currently in season where I live and had been scrumping bucket loads of them. Shop bought jam is completely fine to use too, I recommend choosing a tart fruit jam, with a low sugar content or perhaps one that doesn't contain refined sugar as these will be slightly sharper. Good conserves to try would be; gooseberry, blackcurrant, plum, damson or blueberry & cherry (darker fruits tend to be slightly sharper) however, raspberry does also pair wonderfully with both mint and whisky so this berry would work too. The freshness of mint accentuates the fruits sharpness but, I'd advise not using fresh spearmint or its essence as there's a danger of entering into toothpaste tasting territory, regular mint is best.
This recipe makes 24 mini tarts or 12 fairy cake tarts or one 8″ tart
INGREDIENTS:
pastry
200g plain flour
pinch of salt
tsp lecithin powder
50g sunflower oil
5 tbsp. vodka
whisky custard
tsp (2g) lecithin powder
tsp plain flour
tsp vegeset powder/ agar agar powder
tbsp. water
50g syrup or sugar
250ml oat milk
2 tbsp. whisky
mint jam
125g berry/stoned fruit conserve* (conserve is generally better as it's slightly looser and has a higher fruit content but, jam will also work fine too). *I made homemade blackberry jam – if you want a recipe to follow click here.
3 tbsp water
2 tbsp finely chopped fresh mint / a few drops of mint extract to taste
METHOD:
Begin by making the pastry; in a large bowl rub and pinch together the flour, salt, lecithin and oil until you form fine crumbs. Add the vodka and lightly stir the mixture with your hands to bring it to a uniform ball of dough.
On a lightly floured surface, roll the dough to the thickness of a pound coin. Use a cutter about a cm wider than the parameter of your mini cupcake or fairy cake tin, if making individual tarts. Gently press each cut piece of dough into the cups of the tin, ensuring you push the dough right into the corners of the cup. It's good to have the pastry cases slightly higher than the cups as they will shrink a little when baking and we want to ensure enough space in the cases to fill with two layers. If you are making one large tart the same process applies of gently easing the pastry into the corners of the tin and leaving a slight overhang to allow for some shrinkage later.
Chill the raw cases for 30 minutes in the fridge or 10 minutes in the freezer. Lightly prick the base of the tarts with a fork before blind baking in an oven preheated to 190 or 180 degrees for fan assisted ovens. Individual tarts need 10 minutes and the large tart needs 20 minutes blind baking. Remove the beans and greaseproof paper, brush the pastry with an "egg" wash (made from a tsp of milk and a tsp of oil) and then bake naked for a final 5 minutes, in which time the pastry should become golden and slightly crisp. Leave the pastry in the tin to cool completely, were it will continue to harden up.
To make the custard, scald the milk in a small pan (heat on low until it just begin to simmer). Meanwhile, in a jug or bowl, mix together the lecithin, flour, vegeset, water and syrup. Add a couple of tablespoons of the hot milk to the lecithin mix and whisk to make a thick paste, then gradually add the rest of the milk, whisking constantly. When all the milk has been added pour the liquid back into the pan and on the lowest heat stir the custard gently for 10-15 minutes until it starts to thicken. You want it to be smooth with a thickness somewhere in between double cream and softly whipped cream. Take the custard off the heat and stir through the whisky.
Fill your cooled pastry cases 1/2 to 2/3 full with custard and then place in the fridge to set for 2 hours.
Add all the ingredients to make the mint jam into a small pan and heat gently on a low heat for a couple of minutes until everything is amalgamated and the jam is loose and creamy. Taste to see if you need to add more fresh mint / extract. If you are using a homemade berry jam I would recommend blitzing and sieving it to remove the seeds to achieve a smooth consistency.
After two hours the custard should be set enough to spoon the jam on top. Spread the jam so its even and level. Adorn with fresh berries or mint leaves or if you're being super extravagant flecks of gold leaf really stand out against the dark jam. This tart is best eaten the same day as the pastry will loose its crispness over time but, it will last upto 2-3 days kept airtight at room temperature or in the fridge.