This concoction was created due to my subconscious refusal (after many a childhood trauma) to accept that you can't have cake for breakfast! Combined with my addiction of starting the day with a creamy bowl of plain porridge, sometimes I add a fresh berry goo and if I'm feeling really fancy I make my favourite porridge combo of maca and strawberry!
I think my favourite classic British pudding is Bakewell and I have grown up devouring too many of Mr Kipling's cherry bakewell's. But, now with my plant based lifestyle I wanted to try and morph this British delicacy with my obsession for porridge so that I'd never feel deprived of the vintage bakewell flavours whilst also feeding my body with nourishing goodness.
I usually opt for oat or rice milk over almond just because I know that almonds require so much water to grow and often they are produced in places like California which are facing droughts at present. Therefore I feel it wouldn't be environmentally sustainable to always buy almond based products. But, I remind myself to try and live by the mantra of balance and moderation so whilst it may be better for the environment I also like to buy almond products to support the people who rely on these industries for their work. I'm definately not suggesting you shouldn't buy almond products because, I still do too, I just think awareness of the what and how the food we eat effects the planet we rely on so dearly is important to keep in mind when shopping. I like to buy local and in season produce when I can but also mixing up what food I buy at supermarkets to help all global growers that provide my food.
You can substitute any milk you prefer in this recipe from dairy milk to soya or oat milk whatever makes you happy and at peace with yourself is the most important!
These bars are naturally sweetened with apricots, a traditional flavour to pair with raspberry and almond. The mix of fresh and freeze dried raspberries adds pops of fruitiness and each bite oozes with sharp and sweet fresh juicy fruits all encapsulated by the subtle hue of almonds.
A couple of these bars make the perfect breakfast, hot or cold. I usually make a double batch freezing the second tin after cutting and cooling so that whenever I know I will need to have breakfast on the go I can thaw a couple overnight ready to grab and go the next morning. These would also be great treats to put in lunch boxes or afternoon snacks for kids and adults too after all, there's no age limit on bakewell!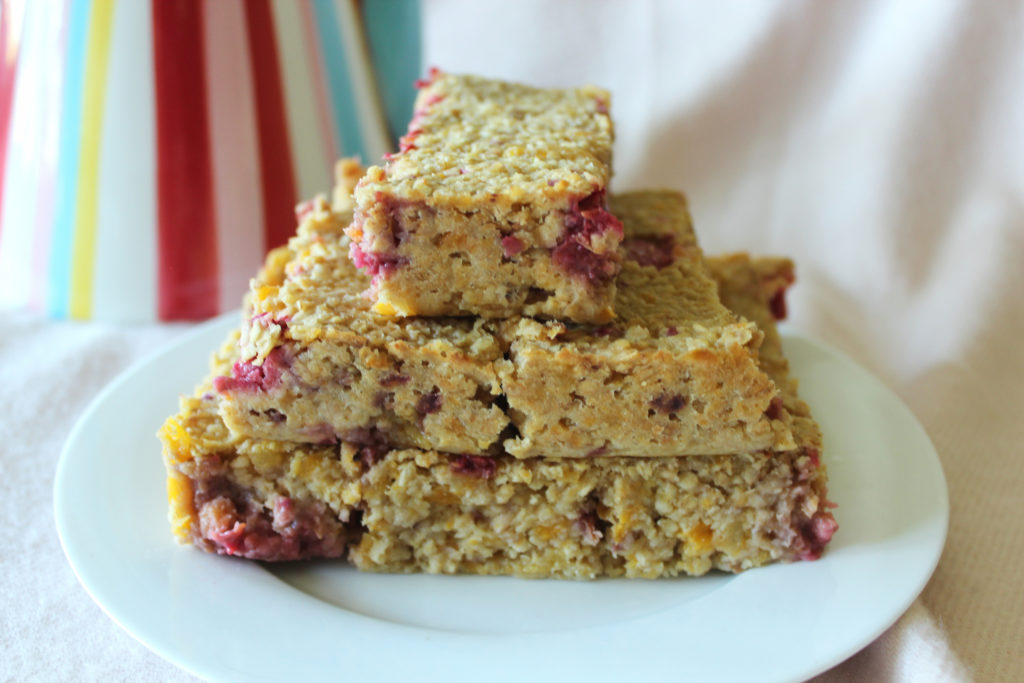 (This recipe makes 10 bars)
INGREDIENTS:
250g dried apricots
50ml water
300 gluten free rolled oats
400ml almond milk (or any other you prefer or have on hand)
1 tsp almond essence
25g coconut oil (melted)
9g tube of freeze dried raspberries
150g fresh raspberries
METHOD:
1. Preheat the oven to 170 or 160 degrees for fan assisted ovens and grease and line an 8×8 inch square cake tin.
2. In a blender, food processor or spice grinder blitz the apricots with the water until a stick puree forms. Scoop this into a large bowl and add all the other ingredients except for the fresh berries. Stir the mixture thoroughly, making sure everything is well incorporated.
3. Finally, gently fold in the fresh fruit until speckled throughout the mix before dolloping the batter into the tin and spreading it to the sides until level. Bake in the oven for 15-25 minutes. The edges should be slightly golden and the top should feel slightly firm to the touch but you can feel that its still spongey and moist underneath. Slice the bars whilst still warm and then leave to cool completely in the tin before storing in an airtight container for up to a week or freezing for up to 2 months. Happy breakfasting!