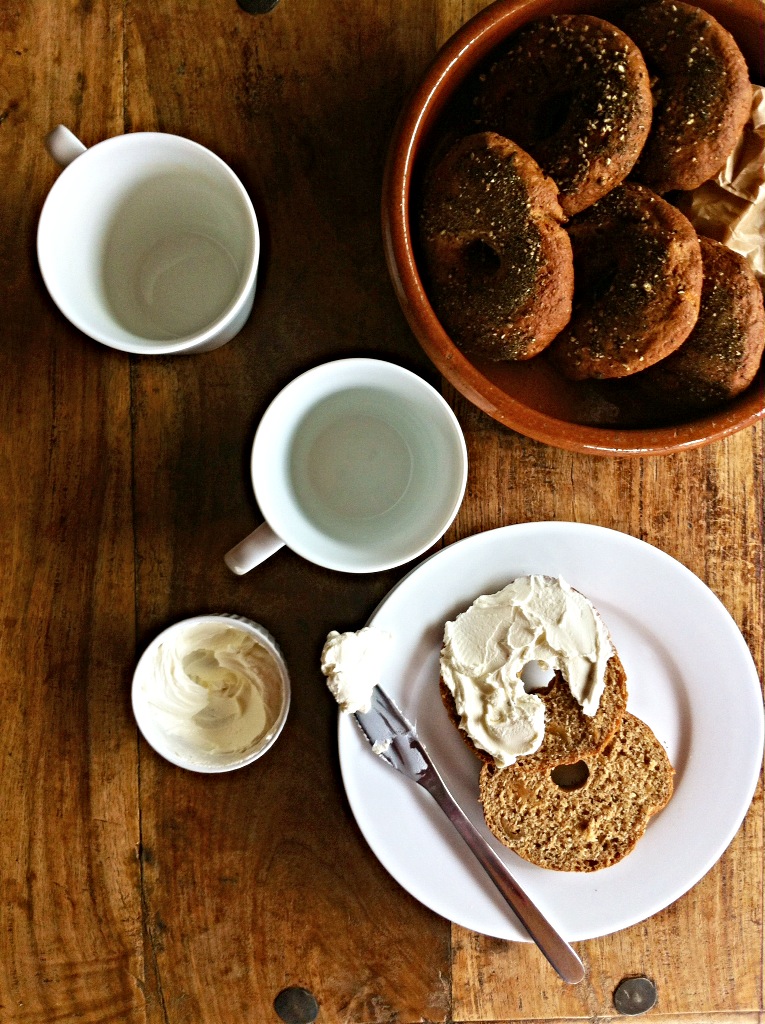 As far as bagels go these fig and black pepper bagels may seem rather fancy but, they're super special and delicious. They're made with organic spelt flour which brilliantly compliments the soft chunks of sweet, sticky figs and fresh, syrupy honey. The dough is speckled with black pepper; a perfect contrast against the honey taste, accentuated by the fruit. These bagels are chewy without being dense and cloying and they would be perfect smothered with a layer of almond butter, jam, cream cheese or whatever else you fancy.
What's even better about these bagels is that they're plant based, so they contain no animal products like dairy. This winter I discovered the plant based way of eating. It's really appealed to me because all the food is natural and wholesome, after each meal I feel so energised and without the burdensome feeling on my body which I often find when I eat meat and other more complex foods. I spent a lot of last year very sick but I'm hoping that this year I will be able to really start making myself better. I'm hoping a plant based diet will bring back a positive attitude to food. Everyone I've come across on a plant based diet seems really happy, full of life and enjoying themselves and I need to be enjoying myself too. Because food is such a big part of my life I don't wish to battle with it any longer and I feel this way of eating is my way of rebuilding a healthy relationship with food again.
I have to admit, because I have been ill the past year some of the recipes I've posted I have not taste tested myself but, I can assure that all recipes I have created for the blog have been approved and complimented by many friends and family . I hope that as I recover I will eventually be able to go back over some of the recipes I haven't tried myself and give them a go just like you should too! I also hope to introduce more plant based recipes to the blog to inspire you to love this way of eating. My mission is to create plant based recipes which look and taste no different to normal baking. Hopefully you won't be able to tell the difference! All that will have changed is how nourished your body will feel after eating such natural ingredients.
Anyway, back to the bagels. These are made with spelt flour which has a lower gluten content, so they have to be kneaded a little longer than normal to encourage the gluten to develop. They also take longer to prove. However, they are more easily digestible than bagels using strong bread flours which have a higher gluten content.
This is a perfect, cosy afternoon bake that will scent your home with the sweet smell of fresh baked bread. Now who can resist that!
(This recipe makes six bagels)
INGREDIENTS:
100g soft dried figs
300g spelt flour
1/2 tsp ground himalayan salt
tsp ground black peppercorns
4g fast action dried yeast
180ml lukewarm water
20g honey
10ml olive oil
tbsp bicarbonate of soda
extra crushed peppercorns to sprinkle
METHOD:
1. Begin by chopping your figs, you want them the same size as raisins. When chopped add them to a large bowl with the flour, salt and pepper. Stir everything together until the figs are evenly distributed into the flour. It's also important to stir the salt into the flour as a large lump of salt will deactivate the yeast when we add it later. In a glass add the yeast to lukewarm water, you don't want the water hot as this will also deactivate the yeast. Leave the yeast for 5-10 minutes until foamy and bubbly. Whilst the yeast grows stir the honey and olive oil into the flour mix. Finally add the yeast water and stir this all together until it comes together in a dough.
2. Scoop the dough out onto a clean work surface and knead for 7-10 minutes until smooth and elastic. It's ok if your dough is a little sticky at first, as you knead the dough it will become smooth but, if your dough is too wet to knead, dust the surface with a little flour. On the other hand if your dough is too dry and crumbly add a teaspoon at a time of water. Place the kneaded dough in a large, lightly oiled bowl and then cover with clingfilm. Leave the dough to rise in a warm place (I used our airing cupboard) for 1hr-1 1/2hrs until doubled in size.
3. When risen, divide the dough into six equal pieces and shape into balls. Lightly flour the handle of a wooden spoon and use it to pierce a hole into the centre of each bagel. Widen the hole with your finger, remembering that during the second prove the hole will close up slightly as the bagels rise. Line a couple of trays with greaseproof paper, place the bagels onto the trays and cover lightly with oiled clingfilm. Place back in a warm place to rise for another 45 minutes to 1hr.
4. Preheat the oven to 200 degrees or 190 degrees for fan assisted ovens. Bring a large pan of water to the boil and then add the bicarbonate of soda to alkalise the water. Poach batches of the bagels for 45seconds before flipping and poaching for another 45 seconds. The poaching is what makes them chewy as well as helping them to form a crust. Take them out and leave them to dry a little on a wire rack.
5. Finally sprinkle the bagels with crushed peppercorns (to your taste) before placing them on trays covered in greaseproof. Bake the bagels for 15 minutes and then rotate the trays in the oven and bake for a further 8 minutes. The bagels are done when you feel a slight crust forming and are a dark golden brown in colour. Leave the bagels to cool completely on a wire rack. These bagels are best eaten the same day but can be frozen for another day.
essay writing service australia http://paperopus.com/essay-service/