Napolitaines are a brilliant bake to make over the festive period because everyone likes them and they suit any occasion. I already made earlier this month to give away as gifts to friends and I'm going to be baking a batch on Christmas Eve when my mum and I have our annual Christmas Eve baking session so that we can comfortably cater for all the gatherings we have right through to the New Year! They're deluxe alternatives to offer to both adults and kids who aren't too keen on the traditional boozy christmas cake or fruit laden mince pies but, as they're spiked with warming christmas spices and merrily decorated no one will feel they're missing out on christmas spirit if they have biscuit or two instead of a mince pie!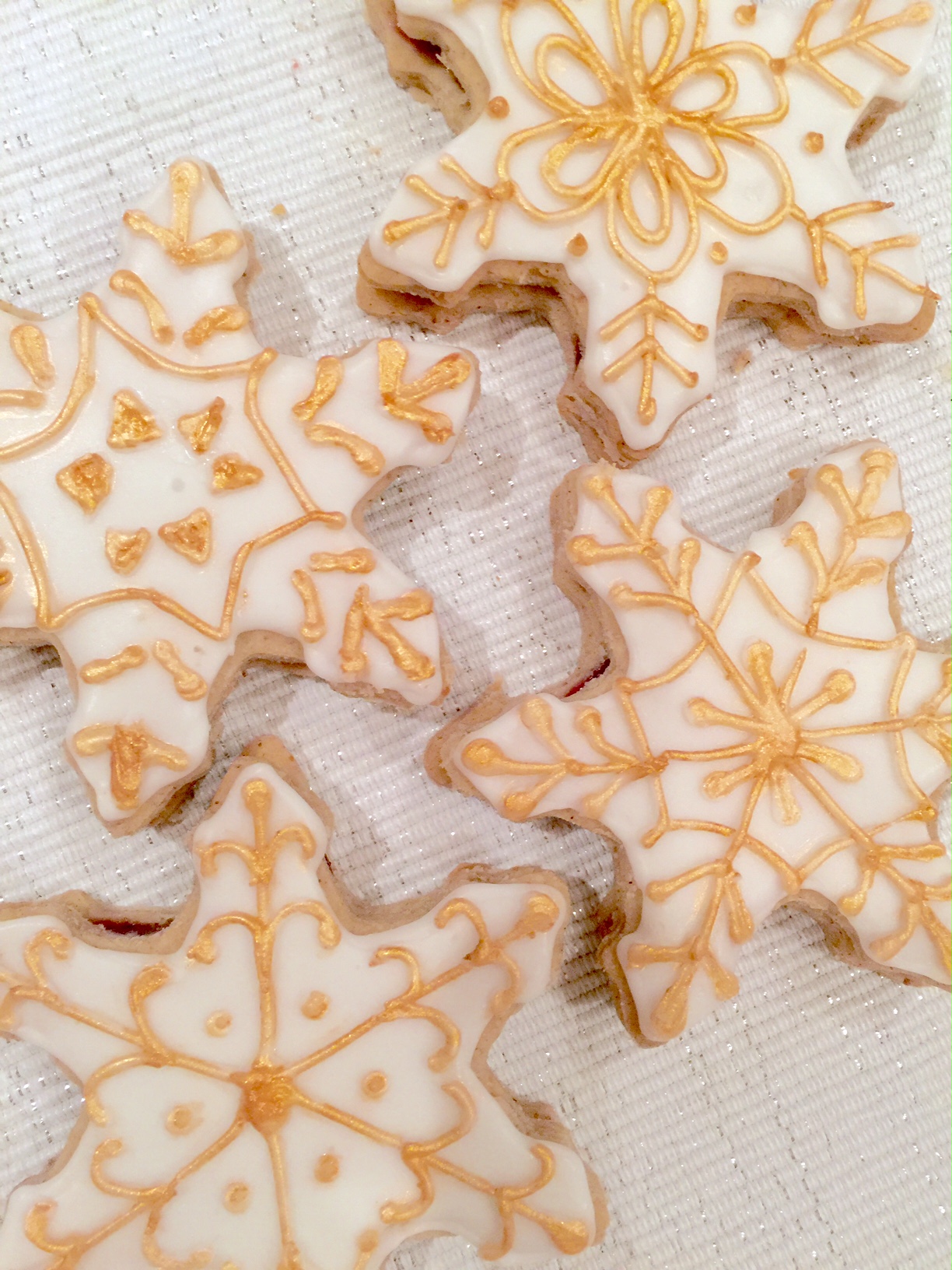 Napolitaine is a Mauritian biscuit, originally made from four simple ingredients. Butter and flour comprises the shortbread like biscuits which are sandwiched together with jam and then encased in a thin pink hue of glace icing. My family on my mother's side originate from Mauritius, I've been to visit our family there once when I was about 4 years old and back then there would be stalls everywhere selling these innocent looking delicacies.
I have grown up baking these biscuits. For the first half of my life my baking repertoire consisted of crumble and napolitaine. At the age of 5 or so my mum would get me making all the crumble desserts for her dinner parties, likewise I would not be allowed into a family gathering unless I had with me a box of napolitaines. In fact when my uncle got married I was only 13 years old but he asked me to make 150 napolitaine to give out as wedding favours.
I have been working away on this recipe since the summer trying to create the perfect vegan, gluten free version. Now that it's christmas I thought I would jazz them up and add a festive twist. I've added warming mixed spice to the biscuit which after many alternative testings I've settled on non-hydrogenated vegetable spread. The chemist in me prefers to use non-hydrogenated because the unsaturated vegetable fats remain in a cis structure instead of becoming trans fats which in too large a quantity are just as bad for you as saturated fats as they also increase the level of LDL cholesterol likely to be deposited in you arteries.
Moving on from biochemistry… the key magic ingredient in the dough mixture is pine nuts. I blitz them to a paste and as well as helping the mixture bind they are a brilliant dairy free replacement for butter, replicating its rich, buttery flavour analogously. As butter is a key component to napolitaine it is vital not to leave out the pine nuts!
Fussy old me prefers to use unrefined sugar in my baking if a runny sweetener like maple syrup won't do because, it retains much more nutrients than refined white sugars. Fortunately, most people aren't as pedantic as me when it comes to sugar especially at christmas time, so I have used royal icing sugar as its so much better for giving a neat finish. However, I usually cover these biscuits with two alternative coatings that are just as good. I either drizzle the biscuits with homemade or dark, shop bought chocolate depending on what I've got leftover. Another option is too blitz down unrefined brown or date sugar to a powder and mix it with water or the juice of an orange and then pour this over the biscuits before leaving them to set. This icing won't be good for piping decorations but you could always top the biscuits with shredded coconut for a snowy finish instead. It will also be darker in colour because the sugars are natural shades of mahogany.
Hopefully I've now persuaded you to give these effortless biscuits ago of the holiday period. So, I'll stop ranting, you get the carols playing and lets get christmas baking. Merry Christmas everyone!
(This recipe makes roughly 12 sandwich biscuits)
INGREDIENTS:
biscuit dough
4g chia seeds
50ml water
100g pine nuts
200g gluten free self raising flour (or regular) (extra for dusting)
100g rice flour
1 tsp xantham gum
2 tsp mixed spice
pinch of freshly grounded sea salt
100g non hydrogenated vegetable spread
filling and icing
plum jam (sieved to remove any lumps) (or any other flavour you like)
royal icing sugar
christmas decorations
gold lustre
tbsp clear spirit like vodka or gin
METHOD:
to make the dough:
1. In a spice grinder or strong food processor grind the chia seeds to a powder and then mix them with the water and leave them to coagulate for about 5 minutes. Now blitz the pine nuts until they form a paste, you may have to scrape down the sides so all the nuts are blended evenly. Add the paste to a large bowl along with remaining dry ingredients and chia seed mix. Rub the wet ingredients evenly into the flour. Then add half the butter and continue rubbing the mixture so that you begin to form a breadcrumb texture. Add the remaining butter and continue pinching the mixture between your fingers. When the mixture starts to form bigger clumps bring the dough together into a ball.
2. Wrap the ball of dough in clingfilm and chill in the fridge for about 45 minutes. You could leave it for longer but you may need to take it our of the fridge 10 minutes before you want to roll out the biscuits so that its more pliable.
3. Preheat the oven to 180 or 170 degrees for fan assisted ovens and line 3 trays with greaseproof paper. Dust a clean work surface with a little self raising flour and then roll the dough until it's half a centimetre in thickness. Cut out biscuits with any shaped cutters you like and using a fish slice transfer the biscuits to the trays. You can re-roll the mixture 2 or 3 more times. Bake the biscuits for 20 minutes (they won't go very golden they stay rather pale as the pastry doesn't contain any sugar or egg). Remove the biscuits from the oven and leave them to cool completely on the trays.
fill and ice:
4. Sieve the jam so that it is smooth and then spread the jam over half of the biscuits. (Be careful handling these biscuits as they are very fragile). Place the plain biscuits on top of the jam covered biscuits to make a sandwich. Mix a 100g of the royal icing sugar with a little water until it is a suitable piping consistency, then place into a piping bag, snip off the end so you have a small hole about 2mm in diameter. Pipe an outline round the edge of the biscuits with the royal icing.
5. Put any leftover royal icing from the piping bag back into the bowl along with another 300g or so of royal icing sugar, then add enough water to create flooding consistency with the icing. Put this runnier icing into another piping bag an cut a hole about a centimetre in diameter. Flood the biscuits with the royal icing using a small tsp to encourage the glistening pool to the edges. Leave these to set for about 3-4 hours.
gold lustre decorating:
6. Make up some more royal icing that is suitable to pipe and then create any decorations you like on top of the blank canvas of icing then leaving them to set for another 3 hours or so
7. Finally, mix the gold lustre with a splash of spirit to make a thin paste. Use a small, clean paint brush to paint the piped decorations before leaving the biscuits to dry for a final time. These biscuits will last 5 – 7 days if stored in an airtight tin but, that's doesn't factor in their irresistibleness!
NOTE: You don't just have to make this recipe at christmas! You can use any cutter to suit any themed event and you can remove the mixed spice leaving the dough plain how they are traditionally served if you're not making these at christmas. Or why not play around with any flavourings and decorations and create your own version of these deletable sweet sandwiches!