This weeks signature challenge required the bakers to make Paul Hollywood's favourite, the Chelsea bun. A renowned English classic favoured for it's light, fluffy dough and spiral of delicately spiced dried fruits. The bun is usually made from an enriched dough, meaning it contains eggs, milk and butter. I was sceptical of trying to create a plant based version that lived up to the much loved, original .a with only a week to do it in too. Luckily, I struck gold at the first attempt, which is a miracle when recipe creating. I don't think I'd have the nerve to do such a thing if I was in the actual bake off tent, the thought of Paul's icy glare as I commit blasphemy on his scared Chelsea Bun! Luckily for you and I, I'm baking along with the show in the comfort of my own home with not a judgemental looking bear insight!
Bread can be a daunting bake to tackle and it's precision and complexity often puts me off. I was shocked at how easy these buns were to make and I think not having to muddle around with eggs, butter & milk to enrich the dough helped with this. I enriched the dough with oat mylk and used half and half white and wholemeal flour to ensure I achieved the quintessential fluffiness whilst achieving a rich flavour to the dough that wholemeal provides. Apple puree naturally sweetens the bun, whilst making a brilliant sticky glaze and giving this bread a divine, Eccles like flavour.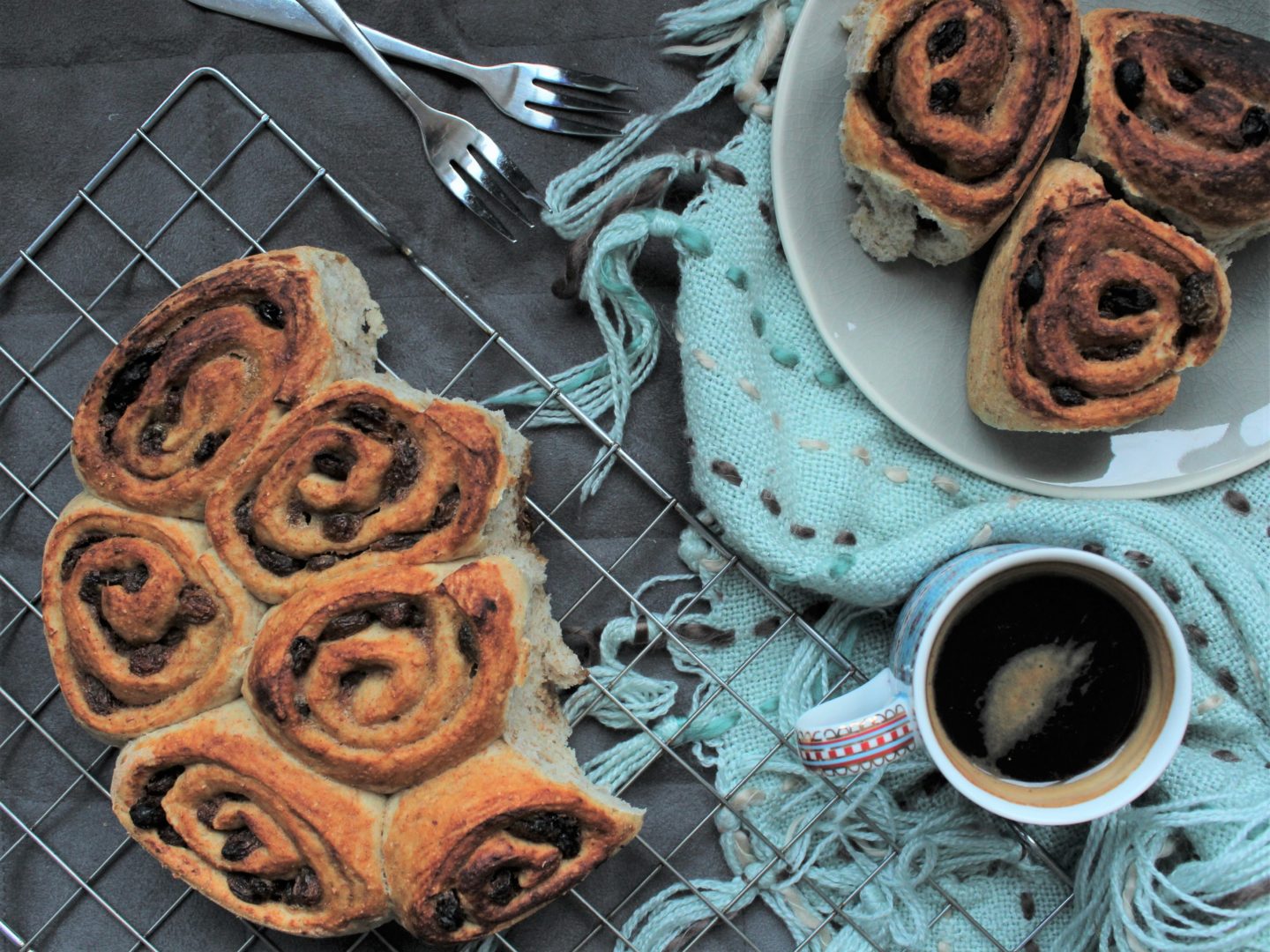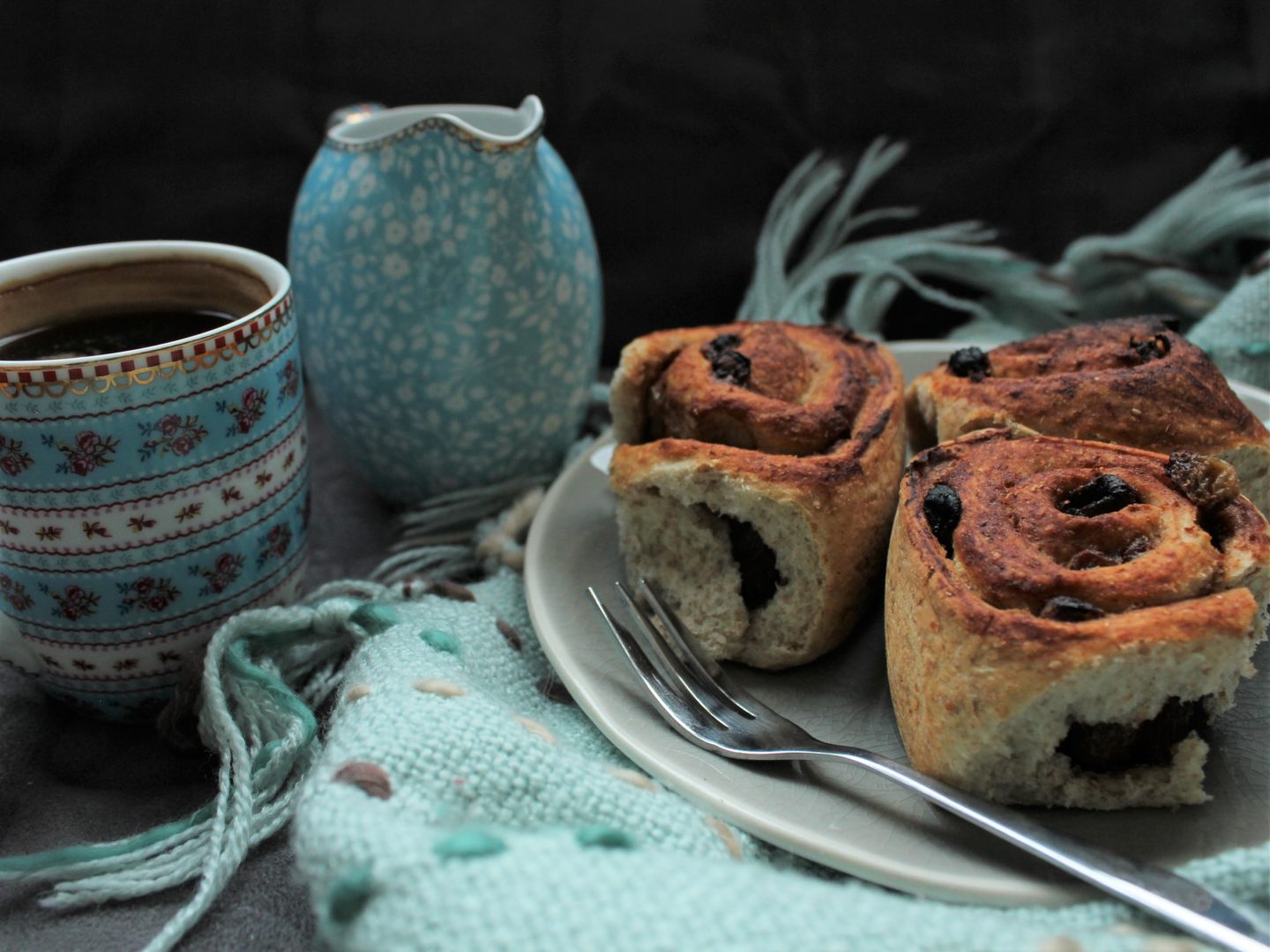 Ultimately, what you really want to know is did I manage to make a plant based Chelsea bun that stood up to the original? Well… my mum is my toughest critique. Her blunt honesty is often frustrating when you've been slaving in the kitchen all day re-testing recipes but, her judgment helps make each creation absolutely perfect. I didn't realise how much of a fan she was of the Chelsea bun but, to my delight after her first bite she exclaimed, "don't bother freezing these, I'll finish the batch". She stuck to her word and ate most of the tray hardly giving my brother and I a chance to lay our hands on them. Mum often complains the texture of vegan bakes are too stodgy and dense but she told me these taste just like the original with it's soft, chewy dough, juicy plump infused fruit and sweet, sticky glaze.
If winning over my non-vegan Mum doesn't persuade you to try this recipe then I'm at a loss what will!
(This recipe makes 9 Chelsea buns)
INGREDIENTS:
dough
4g fast action, dried yeast
150ml oat mylk
250g flour (125g white self raising flour & 125g wholemeal bread flour)
20ml oil
1/2 tsp salt
fruit filling
100g apple puree
100g raisins (try 75g raisins with 25g mixed peel to exaggerate an Eccles flavour)
tsp cinnamon
zest of a small lemon (about 3/4 tsp of zest)
50 grate of fresh nutmeg (1/2 tsp ready ground)
METHOD:
1. Warm the mylk, to around body temperate which is 36 degrees. Add the yeast and set aside for 10 minutes. Meanwhile mix the salt and flours in a bowl.
2. After 10 minutes check the yeast is bubbling and foamy (if this isn't the case then your yeast is dead and won't allow your bread to rise properly and produce a light, spongey dough). Add the live yeast liquid and oil to the flour and stir together to form a dough. Tip onto a clean work surface and knead for 10-15 minutes until the dough is elastic, smooth and when you lightly press a finger into the dough the indentation springs back as if never there. Place the dough into a large, oiled bowl, cover with a tea towel and leave to rise for about 1 1/2 hours at room temperature, in a draught free place, until doubled in size.
3. Preheat the oven to 200 or 190 degrees for fan assisted ovens. Once risen tip the dough onto a clean surface, lightly dusted with flour. Roll the dough into a rectangle roughly 33 x 22cm in size and 3/4 – 1/2 cm thick. Mix 75g of puree with the remaining filling ingredients before spreading evenly across the entire rectangle of dough. With a longer end of the rectangle facing you, tightly roll up the dough. Cut into 9 pieces and arrange the portions spiral facing up in a greased, preferably loose bottomed, 8inch cake tin. Brush the leftover puree over the surface of the buns. Bake for 20 minutes until golden and when pressed with a finger the surface feels firm but's its bouncy signifying the tenderness within. Leave for 5 minutes before taking out the tin to cool completely on a wire rack, before tearing and sharing.
4. These are best eaten the same day but will last up to 3 days stored in an airtight container. They are delicious slightly warm so reheat cooled buns in a low oven for 5 minutes. They can also be frozen for up to 3 months then thawed when cravings hit.