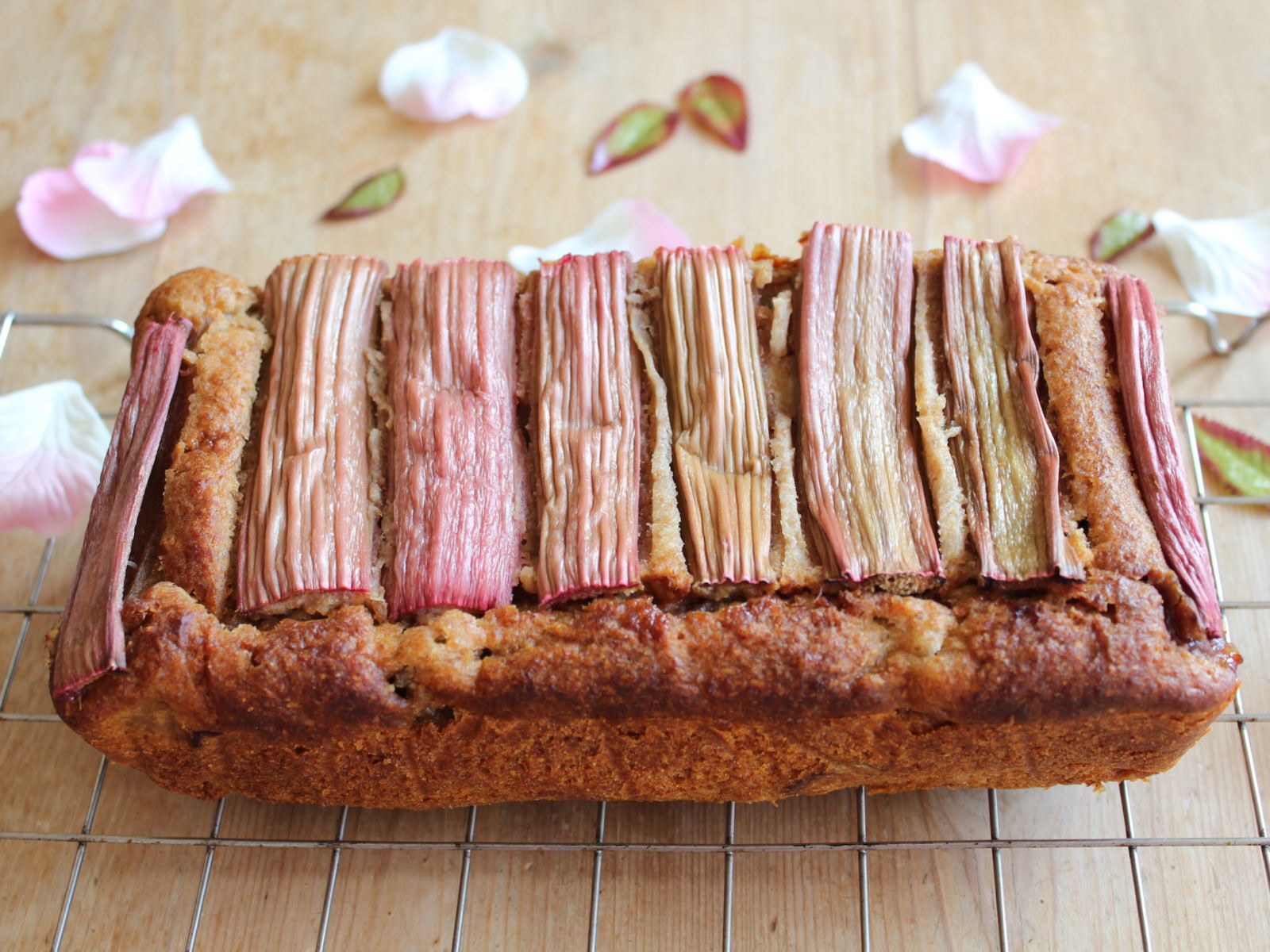 I LOVE RHUBARB! We have always grown rhubarb in the garden and every year I look forward to late spring when I can pick the strong, blushing pink stems to most often bundle into a crumble, or stew down with apple puree as a topping to my morning yogurt bowl. I wanted to use rhubarb in a different way to usual so I have made a cake centred around this beautiful vegetable.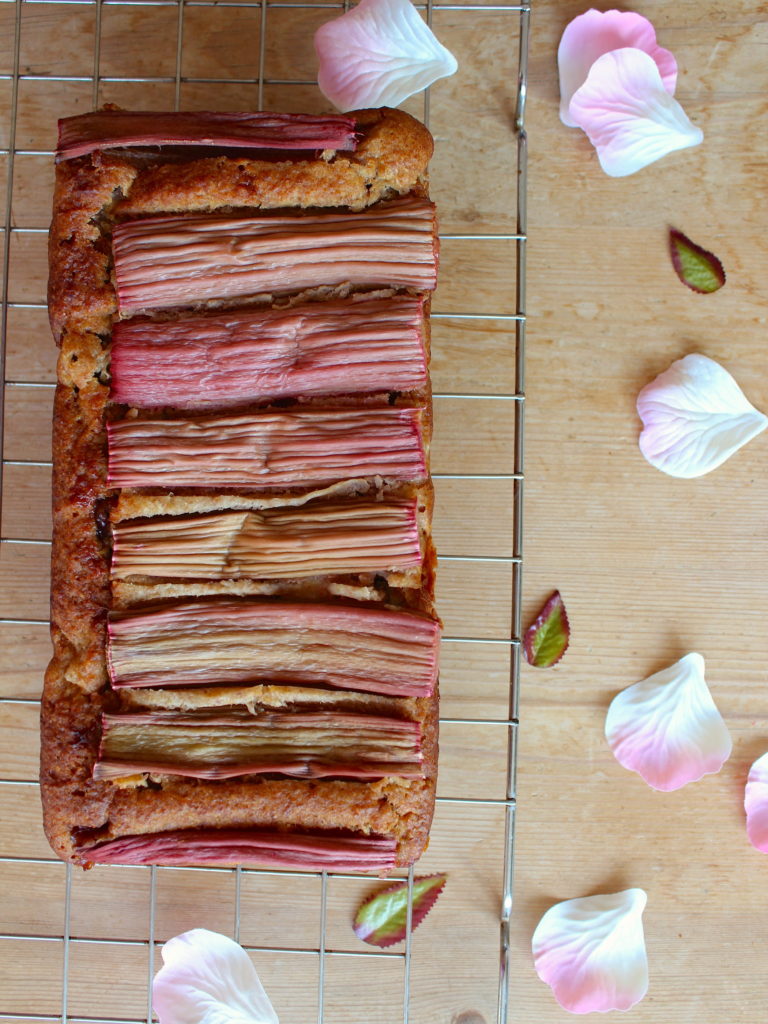 Rhubarb is very sour, so you need to add a sweetener, I've used apple puree to calm it's tartness and help lift the floral notes from the rose essence. A ripple of raspberry jam (strawberry would work too) through the centre tops off the botanical flavour of this cake perfectly. I recommend using wholegrain flours and not white refined flour for this sponge as the grassy flavour balances the blossomy taste created by the rose and fruits. The low gluten content of spelt also helps keep the sponge super light and stops the cake being cloying which I often find can sometimes be the case with fresh fruit cakes.
Nothing beats seasonal produce. I've mentioned before the importance of trying to buy seasonal, local and organic when you can, not only because its better for the planet and your are supporting many good, sustainable practices, as well as supporting local and foreign farmers who rely on our trade. Above all the flavour of your food will be even more intense when the produce can grow in it's natural season without input from harsh, unnecessary, synthetic chemicals manipulating the crops natural growth.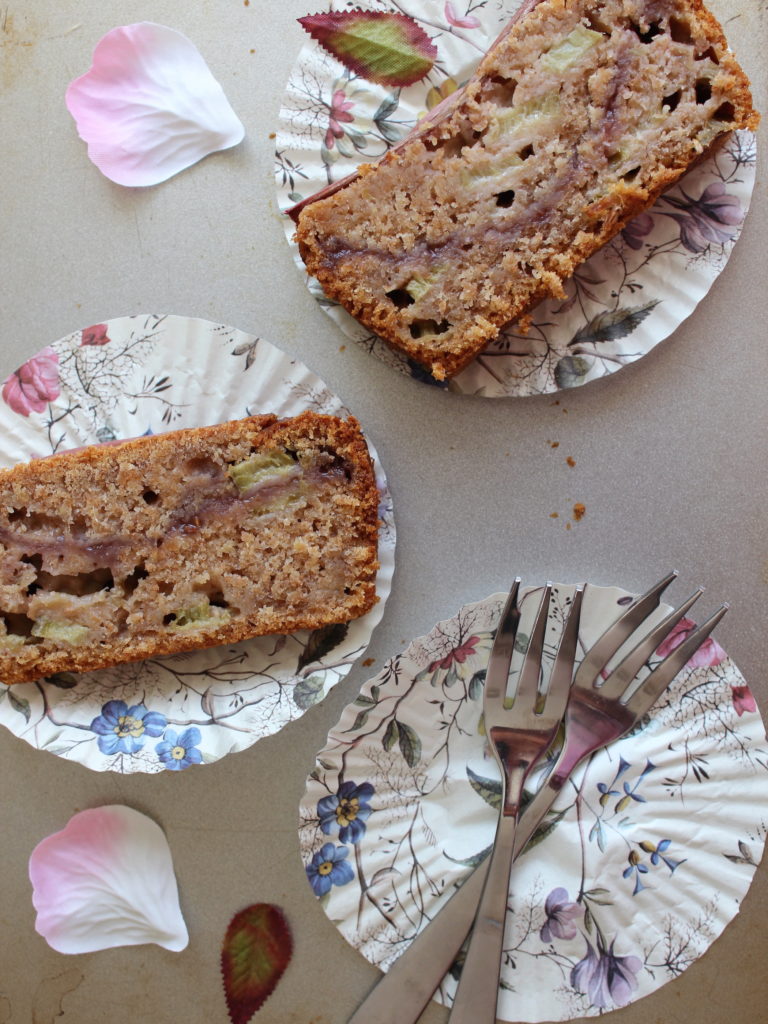 This cake celebrates rhubarb in all its glory. Treasure natures produce and go enjoy it's sweet gifts in the shape of CAKE!
(This recipe makes 1 loaf cake that cuts into 8 slices)
INGREDIENTS:
3-4 sticks rhubarb (about 250-300g)
100ml sunflower oil
100ml apple puree (or any other sweetener)
1 tsp rose essence/water
150ml hemp milk (or any other plant based or dairy milk)
225g spelt flour (buckwheat and wholemeal work well too)
1 tsp ground sea salt
10g ground linseed
1 1/2 tsp baking powder
75g raspberry jam
METHOD:
1. Grease and line a 900g/2lb loaf tin and preheat your oven to 180 or 170 degrees for fan assisted ovens.
2. Start by preparing the rhubarb that will lay on top of the cake. Slice the rhubarb down the stem lengthways, leaving you with two halves per stem. Then cut these into 8 sticks that are slightly shorter in length than the width of your loaf tin, slice the remaining rhubarb in 2mm pieces.
3. In a large bowl whisk together the oil, puree, rose essence and hemp milk. In a separate bowl stir the salt, ground linseed and baking powder thoroughly through the flour. Add the dry ingredients to the wet along with the rhubarb pieces and mix until everything is incorporated.
4. Pour half the batter into the tin. Spread the jam over the mix leaving a cm border, top with the remaining batter and then arrange the rhubarb sticks skin side up over the cake mix. Bake in the oven for 50 minutes and then check every 10 minutes after this, until the pieces of exposed sponge are golden brown and a skewer inserted into the cake will come out mostly clean with a few moist jammy crumbs attached. Leave the cake to cool in the tin for 5 minutes before transferring to a wire rack to cool completely. This cake is best eaten within a few days and should be stored in a cool place, in an air tight container.
LOVE FOOD HATE WASTE TIP: I tend to slice the whole loaf up completely when cool, keeping the cake on the parchment it baked in. I slide squares of greaseproof between each slice and then put the whole cake, wrapped in its greaseproof in an airtight container and into the freezer. I take out slices as and when I fancy, the slices will thaw in a couple of hours, I tend to take pieces out the night before ready to enjoy the following day.