I'm a sucker for a hot cross bun toasted to within an inch of their life, that's been lathered in salty spread as soon as it pops from the toaster. Nothing beats that quintissential combination of buttery savouriness, sweet, juicy sultanas and burnt caramel glaze.
Chamomile is my twist on the traditional hot cross bun. It's spring, flowers are starting to bloom and there is that fresh, sweet grassy smell in the air. That's how I got the idea to add chamomile to this recipe. It adds a delicate, grassy flavour which pairs perfectly with the spices and is enhanced by the use of apple concentrate as the sweetener for these buns.
People are often daunted by the idea of making homemade bread, me included. But these buns although it takes time it's simply case of bunging some ingredients in a bowl, giving it a stir and a good knead and you end up with the most delicious, homely bake. It's hard to explain but there is something quite gratifying when you make bread, I think its because the process is rather traditional and requires your hands to understand and feel what its working with.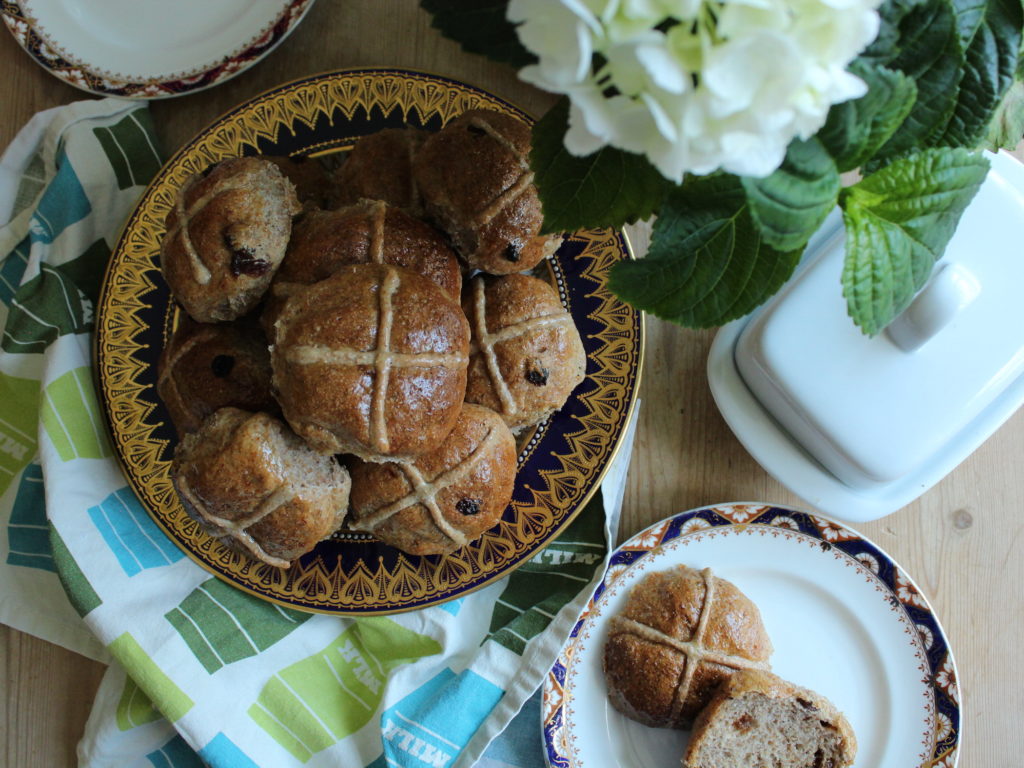 This is one of my favourite recipes on the blog, so please give it ago, it's definitely worth that little bit of extra effort. Happy Easter, everyone!
(This recipe makes 12 hot cross buns)
INGREDIENTS:
for the dough:
225ml hemp milk (or use regular milk or any other plant based alternatives you prefer)
2 tbsp apple concentrate/puree ( I used Biona organic apple concentrate. If you can't get hold of this you can substitute any other sweetener you like)
x3 chamomile teabags
350g strong wholemeal bread flour
100g sultanas (I used Crazy Jacks organic sultanas)
7g fast action dried yeast
1/2 tsp mixed spice
1/2 tsp cinnamon
1 tsp sea salt
pinch nutmeg (freshly grated if possible)
25ml sunflower oil, plus extra for greasing
50ml tepid water
for the crosses:
25g strong wholemeal bread flour
2 tbsp hemp milk
for the glaze:
tbsp apple concentrate
tbsp hemp milk
METHOD:
1. To the dough start by lightly whisking the milk with the apple concentrate in a small pan. Drop in the teabags and heat the sweet milk to a scalding point. Scalding is the point just before the milk starts to simmer, so just before it gently bubbles and you should start to see steam rising from the milk. Remove the pan from the heat and leave the mixture to cool to body temperature, then squeeze the teabags so as much flavour infuses the milk and then discard the bags.
2. Add the dry dough ingredients and sultanas to a large bowl, (don't put the salt and yeast on top of each other as the salt, in such a concentrated form will kill the yeast. I usually add them to opposite sides of the bowl to prevent this). Briefly mix the dry ingredients together to evenly distribute everything through the flour.
3. Make a well in the centre and then pour in the oil, chamomile milk and water. Mix everything together, to form a sticky, reasonably wet dough. Scrape the mix out onto a clean surface and knead the mixture for about 15 minutes. Try to abstain from putting flour or oil on the work surface, the mixture will be sticky at first but after about 10 minutes the dough should come away from the table and your hands as it starts to become a springy, elastic ball. You could use a dough scraper however, to help knead the wet dough . The dough is ready when you press it and it springs back completely.
4. Place the dough in a large bowl greased with a little oil. Cover with a tea towel or oiled clingfilm and then leave at room temperature in a draught free place (this will prevent a skin forming on your dough) for about 2 1/2 hours until it has at least doubled but ideally tripled in size. Wholemeal breads take longer to rise than white bread, on colder day it could take up to 4 hours to rise to the required size. However, an over prooved dough will be wrinkly on the surface.
5. When the first prove is complete, tip the dough onto a clean work surface, grease a sharp knife with oil and cut the dough into 12 portions and then shape into balls. Place them on a large, lightly greased baking tray about 4cm apart. Lightly cover the tray with oiled cling or a tea towel and then leave the buns to rise for about an hour until almost doubled in size.
6. To make the crosses, stir the two ingredients together, you're aiming for a thick paste. Spoon the mix into a piping bag. Score a cross on the top of the risen buns and then pipe a cross over each marking. Bake the buns for 15- 20 minutes in an oven preheated to 200 (190 degree for fan assisted ovens) until golden, they come away from the tray easily and the bottoms are firm to the touch.
7. Bring the glaze ingredients to a boil in a small pan to allow the sugar to dissolve. (This will only take a minute) Brush the glaze over the hot buns and then leave them to cool completely on a wire rack. Store the buns in an airtight container, in a cool, dry place for up to 4/5 days.