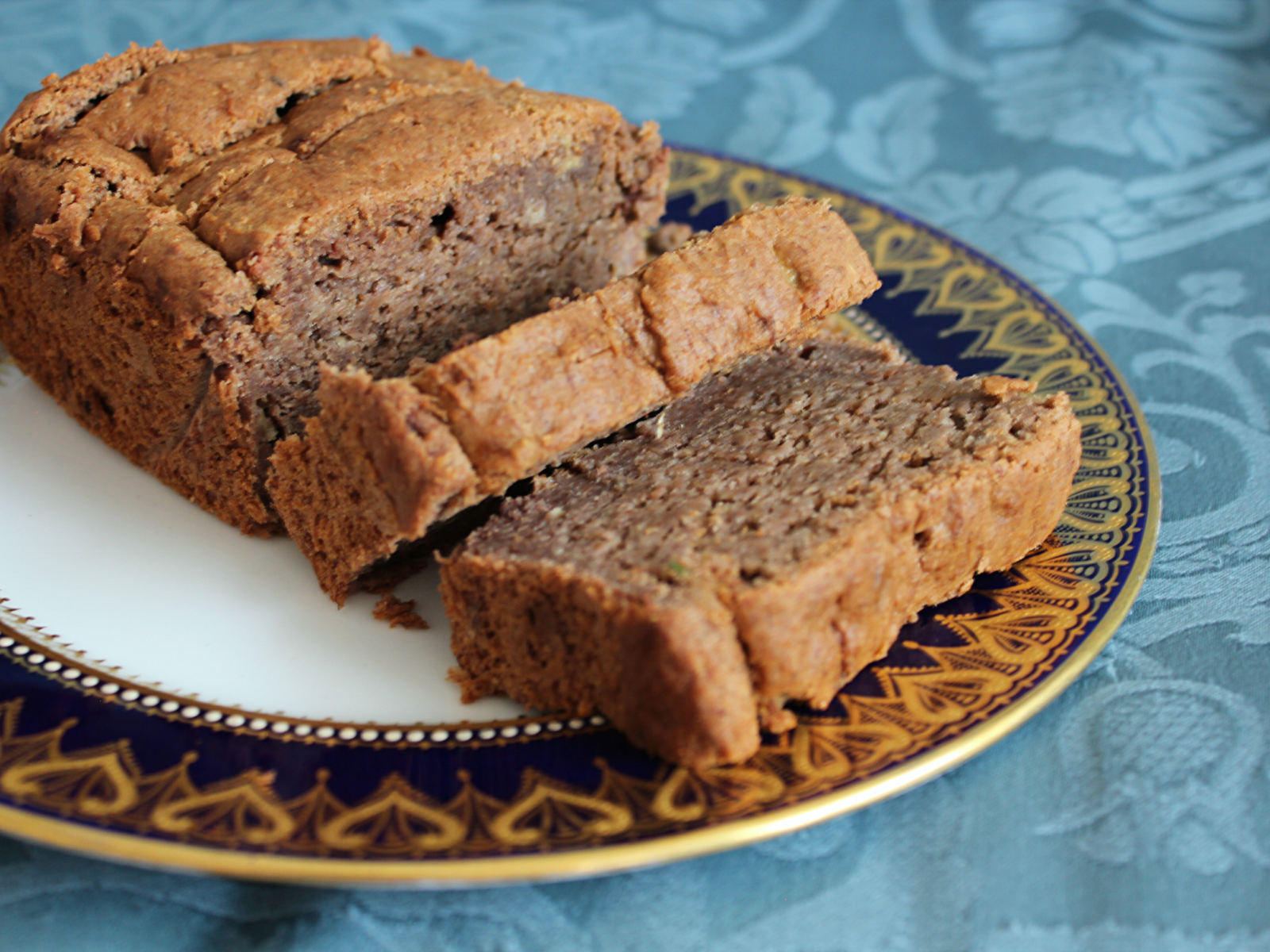 My recipes are always influenced by what is going on in my life at that point in time. Right now I'm all bunged up with a cold and pestered by a cough. However, I've told myself at least I lasted until after Christmas to catch my winter bug! Ah yes and there was Christmas… 5 days later most of the leftovers have been eaten and as I walk down the street I see bins spewing glittery, rainbow coloured wrapping paper and empty toy boxes stripped of their doll's house or remote control car.
I last baked on Christmas Eve and yesterday was starting to get jittery from not baking for almost a week. I had 4 overripe bananas waiting in the freezer to be transformed from their ugly duckling skins but, I didn't want anything rich or sickly after indulging at Christmas so just a simple, moist banana cake seemed ideal.
I jam packed this cake with bananas and was liberal with the spices, too. I used spelt flour which is low in gluten making this cake ridiculously light so you don't feel heavy and bloated after devouring a slice or two! There's no added sugar only the natural stuff the bananas and lucuma contain and this, along with the complex wholegrain spelt, means you blood sugar won't spike as the energy will be slow release.
I used ginger as it is great for battling a cold. It stimulates perspiration which, whilst gross, will help cleanse the body. It is a natural antiseptic and anti inflammatory thereby helping to kill any viruses and decongest clogged up airways. Cinnamon contains compounds like, cinnamonaldehyde which contain anti pathogen properties. A regular dose of cinnamon can help reduce the intensity at which you might be affected by a cough as it promotes secretions in our air passages helping to clear them of mucus and trapped pathogens etc. Lucuma powder, has a caramel flavour making it the perfect pair for banana. It has a low glycemic index making it a suitable sweetner for diabetics as it will keep blood sugar levels stable. Along with this it is packed with vitamin B which is essential for a healthy metabolism, which controls how you digest your food as well as the maintenance of your haemoglobin, skin and hair. Finally, bananas are jam packed with potassium, the third most abundant mineral in the body. Potassium helps maintain healthy muscles, regulates blood pressure whilst ensuring a healthy supply of oxygen to the brain along with many other duties it completes.
Plus, with this cake being vegan it therefore contains no dairy which will just play havoc with you cold as it tends to make mucus thicker, making it harder to clear from your airways.
Yes, this is a cake but as you can see it's NOT unhealthy! Along with al food, eaten in moderation you can enjoy the wonders of this moist and light cake and reap the amazing health benefits our bodies crave at the same time.
So as you party, celebrate, drink and eat your way into 2017 you can reassure yourself that when breakfast comes around you will be starting the new year with a healthy, nutrient packed slice of CAKE!
(This recipe fills a 900g loaf tin, cuts into 10 slices)
INGREDIENTS:
15g ground linseed
4 super ripe bananas, mashed (the darker the better)
100g sunflower spread (or use the equivalent of coconut or sunflower oil)
200g spelt flour (swap for buckwheat flour to make this gf)
50g lucuma powder (this ingredient is not essential, if you don't have any to hand simply replace the lucuma with 25g extra flour)
1/2 tsp each of bicarbonate of soda, baking powder & ground sea salt
1 tsp each of ground ginger & cinnamon
1 tsp apple cider vinegar
METHOD:
1. Grease and line a 900g loaf tin and preheat the oven to 180 or 160 degrees for fan assisted ovens.
2. In a small bowl mix the linseed with 100ml of water and leave for 10 minutes to thicken. In a large bowl beat the spread until light and fluffy, then add the mashed banana, all the dry ingredients and mix until everything is fully incorporated. Now add the linseed gloop and vinegar and stir once again.
3. Finally, dollop the batter into the tin, level the surface and then bake in the oven for 50-60 minutes. The cake should be springy to the touch and a skewer inserted into the centre of the cake should come out clean. After 5 minutes transfer the cake to a wire rack to cool completely before storing in an airtight container for up to a week.
I like to eat a couple of slices of this for breakfast, a slice is also great for an afternoon pick me up snack or lunch box treat. Even better, why not dress this cake up and serve after dinner by warming slices and serving them with dollops of coconut yogurt, nut butters or a drizzle of chocolate sauce (perhaps spiked with rum…?)