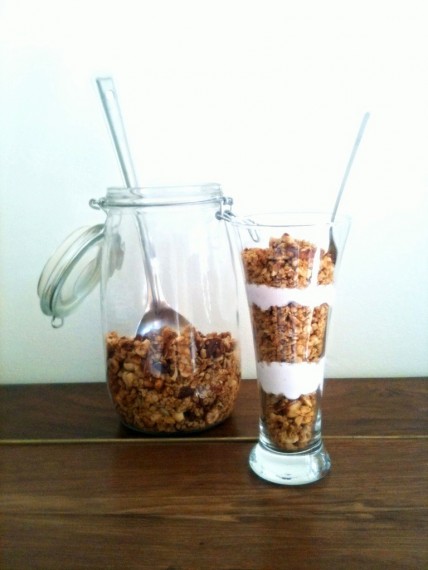 Not only is this granola delicious because it's like eating crushed up biscuits for breakfast (childhood dreams…) the honey and maple syrup are natural sugars making the granola exceptionally healthy. I also found they deepened the flavour of the nuts, so along with roasting them their arcadian flavours seem enhanced. What's more, using oats makes this granola easier on your digestion as it contains no wheat so you shouldn't feel as bloated after gobbling down a bowl or two!
An added bonus about this recipe is as long as you use the base ingredients and stick to the quantities (to ensure the mixture combines well) you could experiment with different types of nuts or dried fruits, seeds etc to suit your taste buds. Although, I think this granola is delicious just the way it is; but you know, personal preference and all that… So as long as you have the base ingredients you could probably use up anything that's in the cupboard and you will be guaranteed a tasty breakfast.
I started by toasting the almonds and hazelnuts. One, to elevate their flavours. Secondly, it's then possible to remove the skins from the hazelnuts. Obviously you can skip skinning the hazlenuts but I don't like the flaky and chalky texture I think the husks create.
(This recipe makes about eight 50g servings)
INGREDIENTS:
200g gluten free rolled oats
50g whole hazelnuts
50g whole almonds
50g pecan halves
50g sunflower seeds
60ml sunflower oil
30ml honey
30ml maple syrup
METHOD:
1. Toast the hazelnuts, almonds and pecans on separate trays for 10 minutes in an oven pre heated at 180 degrees.
2. Remove the nuts from the oven and lower the temperature to 160 degrees. Rub the hazelnuts between kitchen paper or a tea towel to remove the shells. Then roughly chop the hazelnuts and pecans and slice the almonds into slithers.
3. Add all the dry ingredients to a mixing bowl and then add the wet ingredients and stir, making sure all the dry ingredients are evenly coated by the wet.
4. Pour and spread out the oat mixture onto a large baking tray and then bake for 30 minutes until evenly golden, stirring every 10 minutes with a large metal spoon as to not break up the granola too much in order to keep some large chunks.
5. Leave to cool completely on the tray and then pour into an airtight jar. The granola will keep for up to two weeks, stored in a cool and dry place.