Even if I do say so myself, these look adorable. I mean, I believed macarons to be a nightmare to make but, I can assure you that once you're in on a few of the key tips for macaron making, they are a doddle to recreate. In fact, so much so that after devouring this batch within the space of two days I sprinted back to the kitchen and made another batch. (Pistachio and Orange, which I shall be posting later on in the week).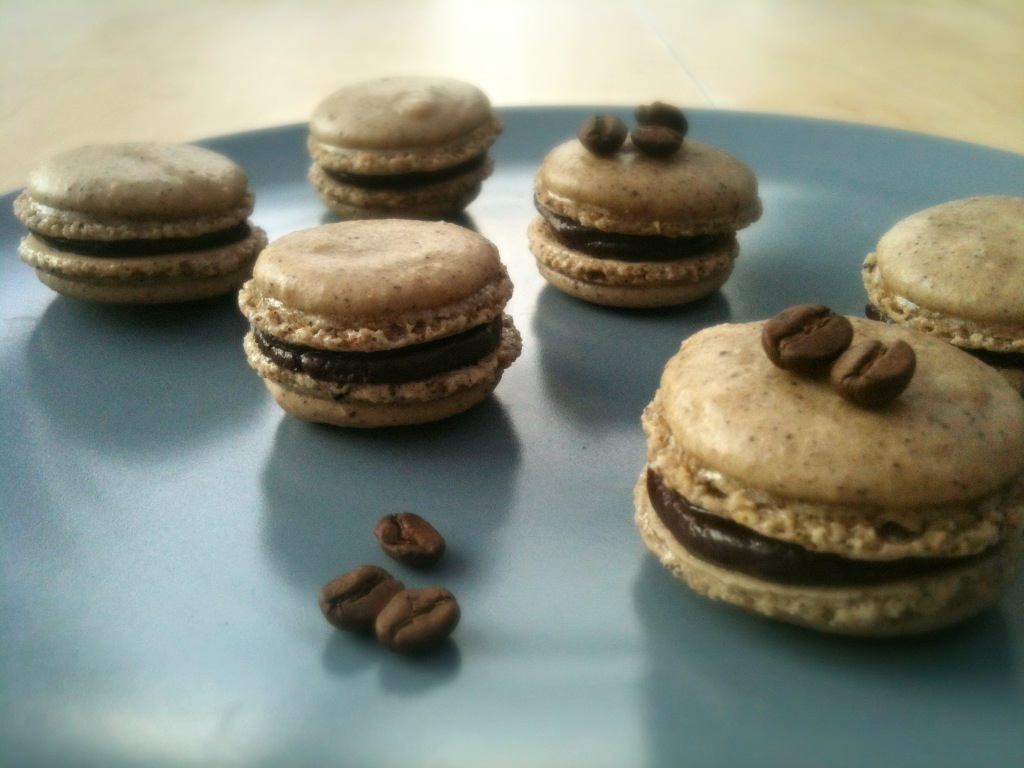 I must admit before tackling these gremlins of the baking world, I did do lots of research, as the last time I made macarons it was a disaster. The mixture was runny, and they didn't set when cooked, instead they were sticky and misshapen. However, now I think I have collated the key information in order for you and I to create faultless, stress free macarons every time! Although, this does mean I've written a rather pedantic method, but just stick with it because the results are delicious!
When creating these macarons I ground up my own coffee beans which I think vastly improved the taste. It also made me feel as though I had teleported to the kitchen of a Parisian patisserie! The frilly feet and shiny shells encompass my vision of French baking at its best. Although small, these are deceivingly rich, but this didn't stop my family from gobbling down several in one serving!
(This recipe makes about 30 macarons)
INGREDIENTS:
for the macarons
120g ground almonds
220g icing sugar
8g freshly ground coffee beans
90g egg whites (about 2-3 eggs)
pinch of salt
25g granulated sugar
for the mocha ganache
100g dark chocolate (chopped)
100ml double cream
1 tsp espresso powder
20g butter
METHOD:
1. 3-4 hours before you plan to make the macarons separate the egg whites and leave them in the fridge loosely covered with a lid or plate. This process I believe dries out the egg whites which inturn helps make sturdier, round macarons.
2. Trace circles 2.5cm in diameter onto greaseproof paper, leaving the same amount of space between each circle for expansion. You need to do enough sheets for 3-4 baking trays. Tiresome I know, especially as you have to draw out 60 CIRCLES!!! but I found it a lot more helpful when piping later on.
3. After 3-4 hours blitz the ground almonds, icing sugar and freshly ground coffee until a fine powder is formed. (I have actually used a Nutribullet to complete this stage before which was even better at the job because it's so powerful). Sift the mixture to make sure it is at the powder consistency.
4. Next place the egg whites and salt in a large mixing bowl or you can use a food mixer and beat with electric beaters or a whisk attachment at high speed until a thick foam forms. At this point add the sugar a tablespoon at a time making sure the sugar has dissolved after each addition. When all the sugar is added you should be left with a glossy looking meringue.
5. Take one third of the almond mixture and fold it thoroughly into the meringue with a large metal spoon to help prevent knocking out air. Then fold in the rest of the mixture carefully and stop as soon as you see all the almond mixture is incorporated. Don't worry if the mixture is lumpy it doesn't need to be smooth, what's more vital is that you don't over beat the meringue. You will know if you have, because when you pipe the mixture it will be runny and won't hold its shape.
6. Scoop the mixture into a piping bag with a plain tip and pipe the macarons out keeping within the circles you have drawn. Once piped, bang the trays against the table 4 times, rotating the tray each time. This knocks out any air bubbles to ensure the macarons rise and bake evenly throughout. Now leave them out at room temperature for an hour for a skin to form. You should be able to touch the surface and it won't be wet and sticky.
7. Next preheat the oven to 150 degrees or 140 if you have a fan oven. You need to make sure you bake the macarons in the middle of the oven so you may have to cook the macarons in batches. Bake them for 12 minutes exactly and do not open the oven until 12 minutes is over, as the cold air will lead to deformed macarons. Then take the trays out the oven and after 5 minutes sat on the tray peel the macarons off the paper and leave to cool completely.
8. To make the ganache bring the cream and espresso powder to a simmer, over medium heat. Whilst this is taking place put the chocolate and butter in a bowl and once the cream has reached a simmer pour it over the chocolate and butter and leave it to sit for 5 minutes. Then using a balloon whisk, mix the ganache to just combine it, over mixing can cause the ganache to separate. Leave it at room temperature to cool enough so you are able to pipe it.
9. Finally pipe the ganache on to half the macarons and then sandwich them together with the remaining half.
10. These macarons are best if left in the fridge overnight in an airtight container. Before serving let them come to room temperature. These macarons will last up to a week in an airtight container in the fridge.